By Tom Yulsman | July 8, 2015 11:55 am
I was about to write a post focusing on how the current spate of tropical cyclones in the Pacific Ocean could kick El Niño into higher gear when I saw the latest climate report for the United States. So I'll put El Niño aside for now to focus on that.
The verdict from the National Centers for Environmental Information: the United States just experienced its second warmest June in a record stretching back 121 years. Only June 1933 was warmer.
According to the NCEI:
Above-average temperatures were widespread in the West and along the Southeast coast, where 16 states were much warmer than average. California, Idaho, Oregon, Utah, andWashington were each record warm for June. Several western cities set new all-time June temperature recordsduring an intense heatwave the second half of the month, including Boise, Idaho where the temperature soared to 110°F.
As for 2015 so far, it has been the 10th warmest January through June on record.
The unusual warmth in June was accompanied by more precipitation than normal. From the NCEI report:
This was the ninth wettest June on record, and marked the third consecutive month of above-average precipitation for the Lower 48.
Meanwhile, the Northern Hemisphere overall continues to bake. During the past week, heat records were shattered in many European cities. As I reported earlier, large swaths of Alaska and Canada have been on fire. And a dome of warmth over Greenland caused a big spike in melting at the surface of its ice sheet.
As a backdrop to all of this, the Northern Hemisphere's oceans shattered the previous record high average temperature in May:
And the heat goes on. Much of the world's oceans overall are now near or at record-high temperatures: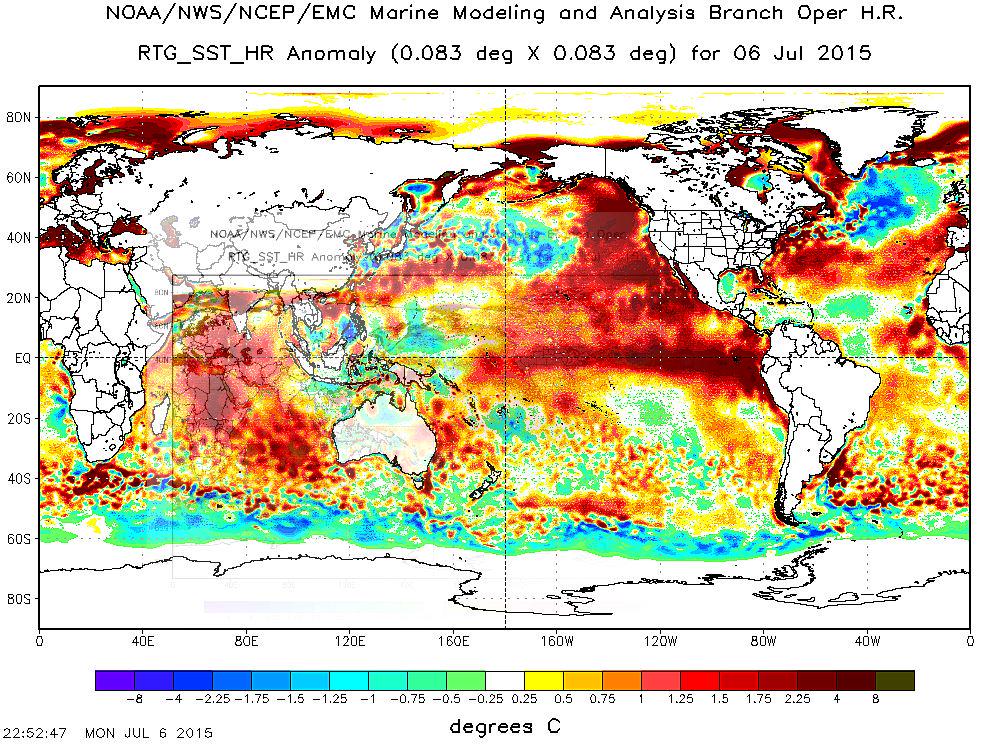 I'm planning to come back to this topic with my post on El Niño, the Pacific Ocean's cyclones, and a phenomenon called the Madden-Julian Oscillation. I hope to get to that in the next few days. So please check back. In the meantime…
Source:http://blogs.discovermagazine.com/imageo/2015/07/08/second-warmest-june-on-record-for-united-states/#.VaMlwPmqpBc